Get Involved
Cinesite's feature animation division is a team of talented, creative individuals working together with film-makers, writers and directors to create exciting, family oriented animated films.
We are looking to partner with a range of companies or individuals with great ideas, who can help us create exciting and original concepts and move them into production.
App Development
The great stories, characters and animation we work with generate instinctive emotional responses from our audiences.  Building on this involvement interactively is a natural progression for us. 
We are looking to collaborate with developers to develop exciting interactive apps which complement the creative content of our work.  If you are interested in working with us and in particular if you are a start up new business developing Apps and technology, please contact:
Other Services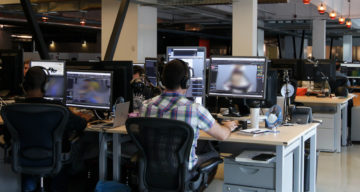 Cinesite is proud to be at the centre of the exciting creative hub in Montréal.  The region has a long history of excellence in technology, advertising, games and educational facilities, film and media. 
We are passionate about the growth of the Québecois film industry.  As such, we are looking to partner with companies or individuals, both established or start-ups, to find collaborative approaches to move our industry forward.  If you have an idea about how we might work together, please contact:  getinvolved@cinesiteanimation.com